This is the part 2 of the top 3 mobile voip providers. Incase you missed the first one you can read it here.
I have been left really impressed with the mobile voip technology. This was something which used to be in my thoughts, as mobile is the gadget with a Microphone, Speaker and can also support Internet Connection. So why not extend VOIP to mobiles. And finally it is here.
This post i will mainly deal with the mobile voip providers which i have not used but heard of them.
1. iSkoot mobile voip
I am not sure how much popular this service is , but it seems it was the first alternate to skype to mobile phones. Skype itself is supporting it for Symbian mobile phones.I have used it once and this is what i feel about its working:
It connects to local server(if at all its existing in your country, else you will be charged of international call) via normal voice call from mobile , which inturns connect you to the skype server and will establish voip calls to skype contacts.
According to me it doesnt seem to be a good option as now so many softwares are available which you can read in part 1 , which offers voip over wifi or other data connection through mobiles. Here is the screen shot :-
2. Mundu Speak mobile voip
This I can say , work like google talk. Two mobile can have mundu talk install and if you have any data package available you can talk using Mundu Speak.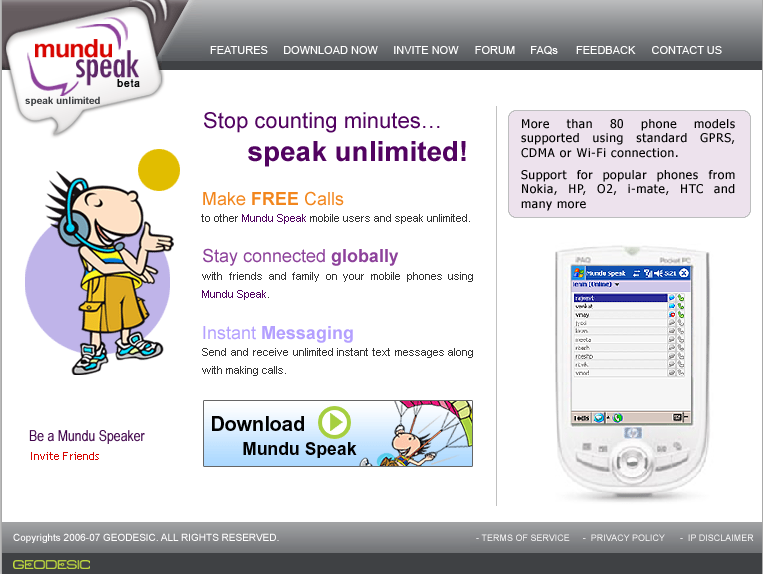 3. Yeigo mobile voip
The only thing i can help you in this is the screen shot. This is also a mobile voip provider. But how it works , I have no clue as i never tried it. Please inform me if you know.