I know lots have been written about Nokia 5800 XpressMusic aka Nokia Tube. The launch took place on October 2nd 2008, and I just missed posting about it here on this blog as I was on Vacation. However, being a Nokia fan , it feels a bit incomplete if this device is not reviewed here on this blog. So without wasting much time, lets start reviewing this second touch device from Nokia. Initially I was a bit upset when the details were leaking out along with the specifications, but updated S60 video did give me some expectations
.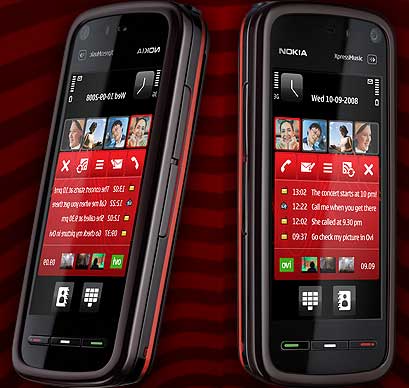 Specification And Product Video
Before I actually start my review, lets have a look at the major specification of this mobile
Form: Classic with full touch user interface (resistive touch) , S60 5th Edition , symbian 9.4
Dimensions: 111 x 51.7 x 15.5 mm
Weight: 109 g, Volume: 83 cc
Touch user interface optimised for one-hand use with tactile feedback
3.2″ display screen with Resolution: 640 x 360 pixels (nHD) with Up to 16 million colours , aspect ratio 16:9
automatic orientation sensor (Accelerometer) for display rotation
Dedicated media bar touch key.
Physical key for camera, menu , volume , lock etc
3.2 MP camera with dual led flash with high Quality Video Recording.
Wifi, bluetooth , integrated GPS with Nokia Maps2.0
8GB memory card included in the package.
3.5mm av connector slot.
1320 mAh Li-Ion battery capable of providing 30+ hours of music.
Quad band 3g phone.
Available in Blue, black and red
for detailed specification please visit this nokia page.
Product Video
The capabilities of this phone are clearly shown in the following product video.
The touch
There is no multitouch. However, it was already known before launch, isnt it ?? Moreover nokia is promoting this device as a mid range touchscreen phone ( which I actually dont agree ) and also a totally music focused device. If you see the total functionality of this device, you will figure out that multitouch is actually not required.
Capacitive vs Resistive touch interface
Capacitive touchscreen is the one used in Iphone. Made of glass, work only with a finger touch ( no gloved hand, no stylus etc) . Hence, you touch a cold glass and there is no feedback or sense of touch.
Resistive touchscreen is the one used in Nokia 5800 XpressMusic. It generally uses a display overlay composed of layers, each with a conductive coating on the interior surface. Hence to notify the touch, you have to put a certain amount of pressure. Resistive touchscreen used here can work with Stylus, finger, gloved hand and even a plectrum and also gives you a tactile feed making you feel that you have touched the phone.
Display
What more ideal than a 3.2″ screen with amazing resolution: 640 x 360 pixels (nHD) with Up to 16 million colors and aspect ratio 16:9. Other than the screen size, its the resolution that matters. The high resolution screen, available in Nokia 5800 can be a pleasure for watching videos. The display is perfectly legible under bright light and is amongst the best compared to similar range mobile phones.
Messaging and Texting : the best part
This phone provide various option for texting as follows :
T9 mode
Mini Qwerty
Full Qwerty
Handwriting recognition
No other phone as far as my knowledge provide these many option ..or call it .. all these keyboards all-together ( other than blackberry model ). Mini-Qwerty and handwriting recognition option work well with Stylus. Full Qwerty keyboard ,and normal phone keypad with T9 can be easily used with finger touch and also provide a single hand typing. The buttons are big and hence provide you a seamless texting option.
The best thing about texting on this phone is that you can make use of the functionality which suits you the best , rather than giving up to the phone's limited option, hence making you the least number of typos.
S60 5th Edition Touch Interface
If ease of use not available in a touch enabled device, then user experience could be a nightmare. Same goes if the phone's OS is not tweaked to handle user interaction upto a certain satisfactory level.
Nokia has tried to deal with these issues by providing a tweaked OS which is highly responsive to touch , and also they have wider buttons and FOCUS driven UI to prevent any wrong selection.
Focus Driven UI, means at places you will be required to double tap, like phone book , setting's menu etc … First touch will select the contact and second tap will give you the details. You will take a little time to adapt to this if at all you are already using a touch phone , where single tap gives you the details, but then remember how many times you tap the wrong contact. Focus driven UI provided you with more options too.
Camera, Music , GPS and Other details
Camera
This phone comes with 3.2 MP camera with Carl zeiss optics. It has autofocus, digital zoom and house a dual LED flash. Phone comes with Dedicated camera key. The phone can take videos in VGA resolution with upto 30 Frames per second. Dual LED flash will help you take pictures in dark.
Music
Nokia 5800 comes is with the Tagline "COMES WITH MUSIC". This is one the most loudest phone available in the market and can be easily heard in a Disco club. Music player has nothing new in it and is the same as Nokia N Series music player with equalizers , stereo widening and many other options like creating playlists , sorting based on album etc. The phone comes with 8GB memory card in the package and can support upto 32 GB cards. Hence you can be sure that you are never gonna run out of memory.
GPS
This phone comes with integrated GPS and with inbuilt Nokia Maps 2.0 , navigation couldnt be easier. The Chip is the same which has been used in other nokia GPS phones , but viewing the map on a widescreen with finger scrolling is going to be great boon.
Browser
We already had browser screen shots, so we know how it is . You can double tap on the screen to zoom a certain area, also there is a full support of flash.
Accelerometer powered functionality
Remember how you can give Iphone effect to your nokia phone using accelerometer based application. Nokia 5800 try to exploit this functionality even more. Now just with a flip,
You an turn the phone into slient
Snooze the Alarm
Autorotate the display.
Performance and Conclusion
The performance which Nokia 5800 provides even with a 369MHz CPU is amazing. The phone was pretty stable and registered the touch everytime. The haptic feedback works really well and gives you a feeling of touch. The phone's prize (Euro 279) vs feature ratio makes it a must buy of the season.
Dont consider this as a conclusion. I will be providing the conclusion in my next post which will be more or less a comparative post. So just wait for the post.


As of now .. my verdict of the phone (9/10) which makes it a must buy.
Other Must read resources and review of Nokia 5800
Update : Nokia Xpressmusic 5800 release date finalized to January 2009 in India.