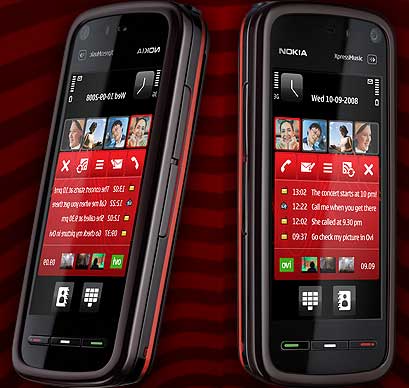 Nokia 5800 is indeed an amazing phone with very high Value ratio considering the price. The most feature rich mobile phone with an incredibly low price. You can call this post, conclusion of the review of Nokia 5800 in conjunction with symbian-freak post on 5800. Allaboutsymbian has posted 10 things Nokia did right with 5800 , and here I try to explore things which are either missing, and the enormous room of improvement possible in this device.
So here are things which Nokia hasn't done right with 5800 xpressmusic.
1. No Album Management for pictures or videos

I am still wondering why Nokia is not able to provide this till now? You take picture, and it just goes and sits in your gallery without getting sorted based on month-year etc. Normally as I have seen in other phones, the snaps or videos automatically get managed into folders based on month and year, which make the gallery look less cluttered and also makes it easy to find snaps.
There is an option to create folder in Gallery, but to view the name of the folder , you have to first select the folder.
2. Pictures and Videos are not Separate
Nokia has provided an option for Video Center which arrange the videos in different tags based on Downloaded, personal etc. However, the same option is not available for Pictures. Gallery comprises of Images and videos together, which again make it more cluttered. Nokia should give a serious thought about this of separating videos and images in Gallery view.
3. Texting Problems
This is again a firmware issue or a small software bug. Many times while I am in the middle of typing a message in Full Screen QWERTY mode, the keypad will disappear and appear again, couple of times, which do irritate a bit.
4. No Autokeypad switch option in Portrait mode
Nokia 5800 is amazing device with loads of texting option. However these options are not used upto the level of user satisfaction. It totally depend on your situation whether you want to use the Full QWERTY keyboard (which need your both hands for effective usage ), or the Alphanumeric keyboard ( which is very easy for single handed use ). This device remembers what keypad you used last and hence will open the same next time also, and you have to manually select another keypad option.
I think Nokia should provide option in the setting to choose which keypad to use in Landscape orientation and which one to use in Portrait mode.
5. Marking Multiple objects is a Pain
I really miss the small pencil key present is other S60 device which was very useful to mark multiple objects.
Things have changed here, now you have to go through this process,
Select the object >> go to Options >> Mark/Unmark >> Mark
Imagine doing this for 100s of pictures or messages. As Sumbian S60 5th Ed is using a Focus driven UI, I think it wont be big pain for Nokia to provide a MARK MULTIPLE option in the menu.
6. Physical buttons are just too hard to press
Nokia has Provided three physical buttons in this device. One for the MENU , one for exiting to HOMESCREEN or to reject or cut a call, and one for viewing the log of dialed, missed and received calls. These buttons are really hard to press and once you get used to touch, these button trouble you even more.
7. UI Orientation never got right
Accelerometer based UI orientation is good but still in a very buggy phase. Many times this phone get confused on whether to align itself portrait or landscape, and it blacks out couple of seconds to get the right orientation. Sometimes , the phone just switch to landscape and will quickly turn into Portrait Orientation.
8. No FM transmitter
Nokia N85 has it , and I think every music phone should now have this option. FM transmitter in phone allow you to broadcast your music at a particular FM frequency, and hence you can use it hear songs on your car stereo without use of any wires. I think Nokia should have given a thought in providing this .
9. Many Screen Navigation for a Small Task
Lets take an example for finding a song. Check out the screen shot below and see how this happen. ( click for full size image )


The similar case is while typing a message.
10. Notification messages take too long to disappear

The way the notifications messages like "Code Accepted" , "Text Copied to Clipboard" etc etc , display for nearly 2 secs which really distract you. Moreover the whole screen goes blank while the notification message is displayed. I think "Success" notification should be displayed in a very non-intrusive way by a small tick.
11. Highly Unstable browser
The browser was really good till I upgraded to v20.0.0.12. The browser now crash a lot while browsing sites like youtube , dailymotion(full screen video doesnt work for sites other than Youtube) etc. Lack of Kinetic Scrolling also add to browser woes.
12. No Internet call options
No one is able to understand why Nokia failed to provide an Internet calling option. You can define SIP settings , but there is no way to use this option to make a VOIP calls. However, many are confident that Nokia will include this is firmware update as soon as possible. Place like UAE where normal ISD calls are so costly, cheap calling over VOIP is best option available to save some money.
<>
13. Minutes skipping clock
Yeah Nokia 5800′s clock skip minutes. Just do a small exercise. Synchronize Nokia 5800 clock with some of your other mobile phone clock and check after couple of days. Nokia 5800, clock must be lagging by nearly 1 or 2 minutes. I wonder with the latest firmware release, Nokia has not yet fixed it. Huh !!!
I hope nokia look into these issues or shortcomings and hope not to repeat the same with the flagship model Nokia N97.