Here I will just present a brief tutorial on how to use your mobile data connection to browse on web on you desktop computer. Many of you might be aware of this.
I had to post this tutorial as I can say this is the best way to unblock any website blocked at your workplace or at school. All you need is a gprs enabled mobile phone which can be used as a modem and a data cable.
I posted an article recently on how to unblock websites, and in that one option was to use mobile internet option of different ISP. Here in UAE , we have two different ISP's DU and Etisalat. recently Etisalat blocked orkut , but DU still hasnt blocked it since its in begining stage, it may take some time for it to block all these websites.
So follow these simple steps and get connected through your data plan on mobile phone.
Initial two steps before you proceed :
Step 1: Connect your mobile phone to the PC via Infrared or bluetooth or USB cable. Once you connect you phone to PC, Windows automatically installs the necessary modem drivers for your mobile phone. Make sure your mobile phone is gprs or 3g enabled and can be used as a modem.
Step 2: On the PC, go to the Networking section of the Control Panel (Start > Settings > Control panel > Network Connections) and click "Create New Connection" and the following dialog box will open after you click next in initial Screen.
Now do as following :-
Give any name as per your wish to identify the connection.
Enter the phone number as *99#
In the username give you mobile number with the country code. Uncheck the two boxes as they will make the connection as default connection.
After you press finish .. you will find the new connection in you network connections. Just double click the connection and click the properties.
Make sure you have phone modem selected or checked ( if more than one modem is installed )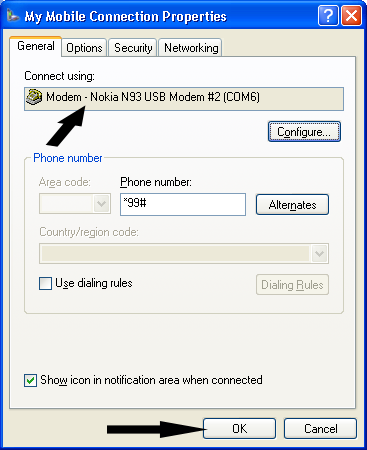 Thats all you have do. After selecting OK. You can use the connection as a dialup connection.
Whenever you dial up the connection, you will find that phone internally gets connected to the GPRS or other data service you are subscribed to and the same is transferred to your desktop computer.
Now this option is available all over the world. This way you can use your mobile internet connection at office or any place where you dont have access to certain websites. Also if you have different ISP connection, you can also browse the website blocked by one ISP and unblocked by other.
Any doubts in this whole process, feel free to post in comments.