Wow, and here the news , which every Nokia fan in UAE must be waiting for . The highly anticipated device , the flagship model from Nokia, the Nokia n97 would be available in UAE soon. UAE will be among the first in the world to be offered the Nokia N97, the Finnish company's new top-of-the-line handset.
We have seen the latest videos of Nokia N97, which has gone through a huge software makeover from time it was released in December 2008. Nokia N97 is the second official S60 5th ed Touch device from Nokia. Nokia 5800 has seen huge success, by selling more than 3 Million devices , the the countries, where it was launched.
Nokia UAE front page is now features Nokia N97, and sooner , "Availabe Now" button will appear.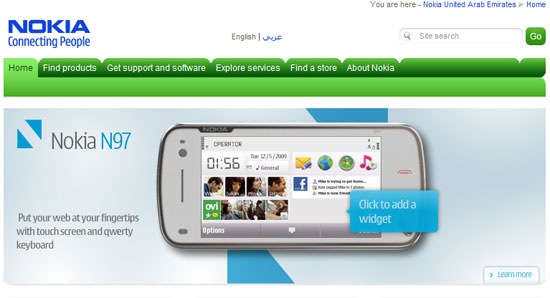 Price
Price play an important role, but N97's price range was already declared and would be around Euro 599 which may turn out to be around 3000 AED .
The release of the N97 comes as mobile handset sales are falling at the fastest rate ever recorded. Sales of devices in the first quarter of this year were down 15.8 per cent from the same quarter last year, according to the research firm Strategy Analytics. The slowdown is being felt most strongly in the middle of the market, where consumers are delaying the purchase of new phones, and choosing instead to keep their older handsets for longer.
UAE's National Newspaper has posted a video walkthrough of the phone, in which it look a little sluggish, might be due to slow processor.
My advice with the awaiting Nokia fan's would be, to wait for some time after the phone is released, as I am sure, that the price of this phone will drop really fast and also we may get some review with real production unit. S60 5th edition platform is still not bug free and considering the problems I faced with my Nokia 5800, I will prefer to play safe with this device.
The advantage with this device is that , its made for both the segment which like to have a touchscreen mobile , and also the people for whom touchscreen doesn't matter. The full QWERTY keypad add this advantage to this mobile phone.
Anyways, if I am buying this phone, I will consider the white one .. What about you ??
Check out all posts tagged with Nokia N97
via:  the national , Video