The self proclaimed journalist and Russian blogger Eldar Murtazin was recently interviewed by TechCrunch, which raised the eyebrows of many nokia fans like me. Firstly because of the iClueless and iFoolish (ooops .. I feel so iPhonish now)  interview by Techcrunch , and, Secondly the funny denials of Mr. Eldar Murtazin. Mr. Eldar what more you can loose after being called "Russian thief" by your own interviewer ?
If you are unaware of the issue, kindly read the Nokia's official statement over Legal action against Eldar Murtazin.
Anyways lets go in a little more detail about the interview, first the interviewer, The MIGHTY TechCrunch.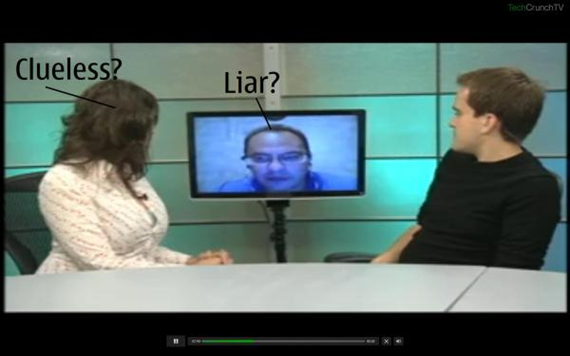 They love iPhone, along with many more. By saying "Who cares about Nokia?" , itself shows  how biased they are. I wonder they were taking an interview or doing a comparative study between iPhone and Nokia. Anyways I couldn't expect anything better than them and I sympathize towards their technological knowledge deprivation, at least in case of mobile phones. They even talked about unheard Nokia N7. I think they should also be grilled by some authorities regarding the unknown Nokia N7 (quite possible they might be having one)
.
With millions of subscribers, I think techcrunch should learn to become more credible.
But here the point of focus is Mr. Murtazin. Lets see what he claims :
1. I have no phones
Well, this point is numerously argued already. A guy writes review without having a phone. And great Mr. Murtazin want everyone to believe it. The twitter addict tweeted numerous times about many Nokia phones he is carrying. Also I think Mr. Murtazin should go back and re-read his interview to Unwired view.
2. Nokia never contacted me
Ah , again pointing out an excerpt from the unwired interview part 2 on the question of Nokia N8 firmware :
S.B. And, just for the record, people were saying that Nokia N8 you have, is a very early, pre-production prototype, with very early software.

E.M. It's not true

S.B. So you have a pretty up-to-date software, more or less the same Nokia has right now?

E.M. Actually, Nokia Security, they really want to know exactly which version of software I am using, which devices, which hardware version I have, or do not have on hand. I get a lot of these questions about software, coming from different sources, sometimes Nokia Security asks this in our forum, through e-mails. This way they are trying to figure out from which sources it's coming, etc; So I will not comment on exact software or hardware versions.
So Mr. EM is trying to say that Nokia is secretly trying to figure out which software version his N8 runs . I wonder in his N8 second review, Mr. Murtazin didnt post any photos/videos taken from N8.
3. I am journalist, not a blogger.
I wonder someone needs to explain Mr. Murtazin the real meaning of journalism. Are journalist biased ? Do journalist write articles based on emotions and not on facts ? Here are one excerpt from Mr. Murtazin's Samsung Wave review :
Naturally, the owner of the device will need to connect the Wave to your computer using a cable from the set – though to find such a cable is no problem everywhere, microUSB has become universal. When you connect your phone starts charging, it is defined as a removable drive (memory device or memory card), and you will only have to select and drag files into the correct folder.
And here is an excerpt from Nokia N8 review :
According to research only a small number of users benefited from this feature. We will see if the aggressive promotion of this option in Nokia N8 can make people use HDMI for showing photos and video. The cable offered is more convenient to carry as it is more compact than TV-OUT cables in the past, but you have to carry it around anyway, which may be a problem for some people as the cable is unusual (even microUSB is not easy to find in every home or office and here we have something different)
I wonder how "easy to find micro USB" became "not easy to find".
Second, In the interview to Unwired view part 1 he says
It depends on the speed of development. [Nokia N8] hardware, is nearly perfect.
In the interview part 2 he says
But, in terms of hardware – N8 is just a regular device
I never knew that a "near perfect phone" is actually a "regular phone".
In his mobile-review forum he has mentioned regarding "One of our children is missing" post from nokia :
Also, if they name me, it will be public defamation and my lawyer insist that we have go to court.
The twitter addict keeps tweeting something related or indirectly related to Nokia to keep him in News. I think no one even bother to look at him unless the news is related to some Nokia phone leak. People realize his existence if any Nokia phone is leaked, and await his tweet.
His recent tweets against Nokia show more of an emotion outburst than real journalism.
Do I support Nokia's act ?
Yes I do. I knew that this would happen if not today, then some day. I think every company has a right to safeguard their property. As per Nokia they did request Eldar to return the prototypes, directly or may be indirectly. I think Eldar should co-operate with Nokia and return all the un-authorized prototypes he is having, rather than just denying the charges ( coz i wonder anyone would believe that ). To be frank, I used to respect Eldar in early days when I used to regularly visit his site for unbiased phone reviews, but not anymore. He has just lost it all, not only from me ..but many nokia fans like me.
image credit : mynokiablog